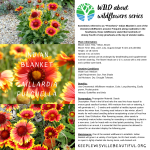 Are you wild about wildflowers?
Check out our new resource page for some of KLB's favorite species of wildflowers and pollinator host plants that we plant around town.
You'll find native species information, including tips and tricks for planting, growing, and propagating natives in your own garden. Click on the photo below to check out our new resource page!