Learn valuable garden secrets through our educational gardening
class series: Garden Secrets.
Each month Keep Lewisville Beautiful hosts  FREE Gardening classes on a variety of topics. For more information about upcoming classes, to register your seat, or to volunteer as a speaker, please email info@keeplewisvillebeautiful.org or call 972-538-5949. Click on the links below to see upcoming 2021 Garden Secrets classes and flyers.

Upcoming Virtual Classes: 
In partnership with Upper Trinity Regional Water District and the City of Lewisville, KLB is co-hosting this "Spring into a Water-saving Landscape Series" Classes will be taught online each Wednesday,  12 – 1 pm beginning March 10th and running through until April 7th.
Register online at: https://bit.ly/UTRWDwebinars 
March 10: Spring into Action for Long-Term Success
March 17: Soil Preparation and How to Plant a Plant
March 24: Getting Your Sprinklers Ready for Spring
March 31: Lawn Care Basics
April 7: Getting Started with Natives
In partnership with the Denton County Master Gardeners Association,  KLB is also excited to bring you our regular Garden Secrets Series classes. Check out our schedule below and watch for new classes to be added.
April 29: Caring for Texas Trees with Pat Moyer, 6:30-7:30pm
May 13: The Pleasures and Perils of Planting Perennials with Carol Rowley, 6:30-7:30pm
August 5: Getting Started with Natives with Liz Moyer, 6:00-7:00pm
August 19: Growing a Sustainable Flower Garden with Sue Newhouse, 6:00-7:00pm
September 2: Caring for Your Holiday Cactus with Joann Spurgin, 6:00-7:00pm
Please note that registration is required for each class.
972-538-5949 or email info@keeplewisvillebeautiful.org
Classes are open to all community members (residency not required) and all ages are welcome. All classes are free, but donations help us grow! If you enjoy our programming, please consider donating to help sustain our gardening series.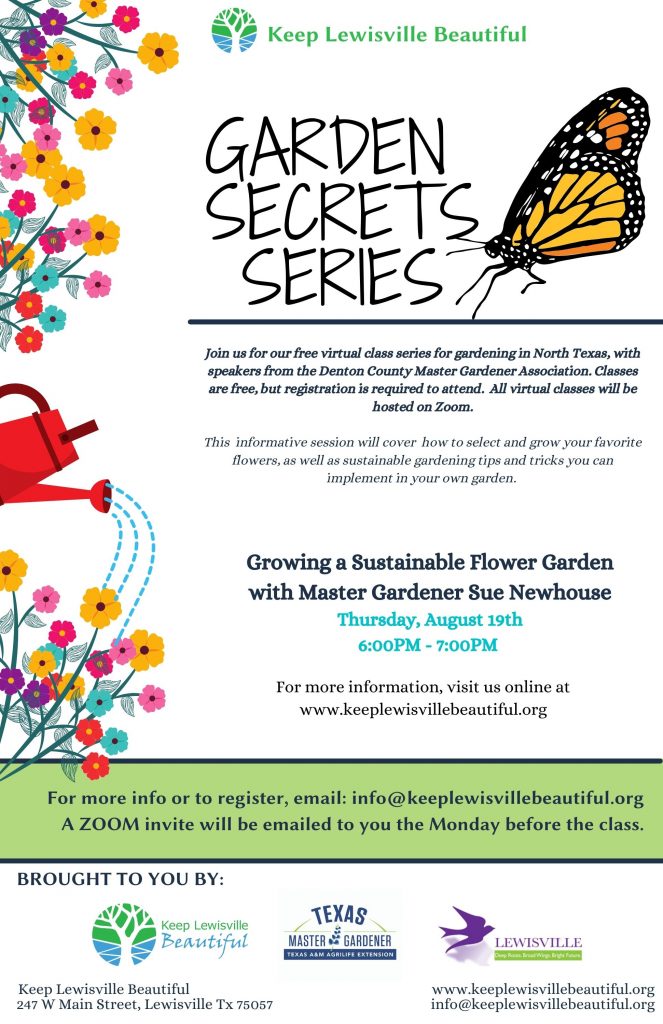 Contact us:
Keep Lewisville Beautiful
Call: 972-538-5949
E-mail: info@keeplewisvillebeautiful.org