Learn valuable garden secrets through our educational gardening
class series: Garden Secrets.
Keep Lewisville Beautiful hosts  FREE Gardening classes on a variety of topics that are free to the community. For more information about upcoming classes, to register your seat, or to volunteer as a speaker, please email info@keeplewisvillebeautiful.org or call 972-538-5949. Click on the links below to see upcoming 2022 Garden Secrets classes and flyers.

Upcoming in-person classes:
In partnership with the Denton County Master Gardeners Association and The City of Lewisville,  KLB is excited to bring you our  Garden Secrets Series classes. Check out our schedule below and watch for new classes to be added.
March 31: Fruits, Nuts, and Berries with Pat Moyer, 6:00-7:00pm
April 7: Butterfly Gardening with Bonnie Ambrose, 6:00-7:00pm
August 4: Fall Vegetable Gardening with Mike James, 6:00-7:00pm
(DATE CHANGE) August 25: Herb Gardening with Bonnie Ambrose, 6:00-7:00pm
September 15: Plant Propagation with Sue Newhouse, 6:00-7:00pm
**September 17th: Plant and Seed Swap at the Lewisville Public Library, 11am-1pm, in partnership with https://library.cityoflewisville.com/
October 20th: Welcoming Pollinators to your Landscape with Liz Moyer, 6:00-7:00pm
November 17: Texas Superstars with Charlotte Canion, 6:00-7:00pm
Please note that registration is required for each class.
To register:
Classes are open to all community members (residency not required) and all ages are welcome. All classes are free, but donations help us grow! If you enjoy our programming, please consider donating to help sustain our gardening series.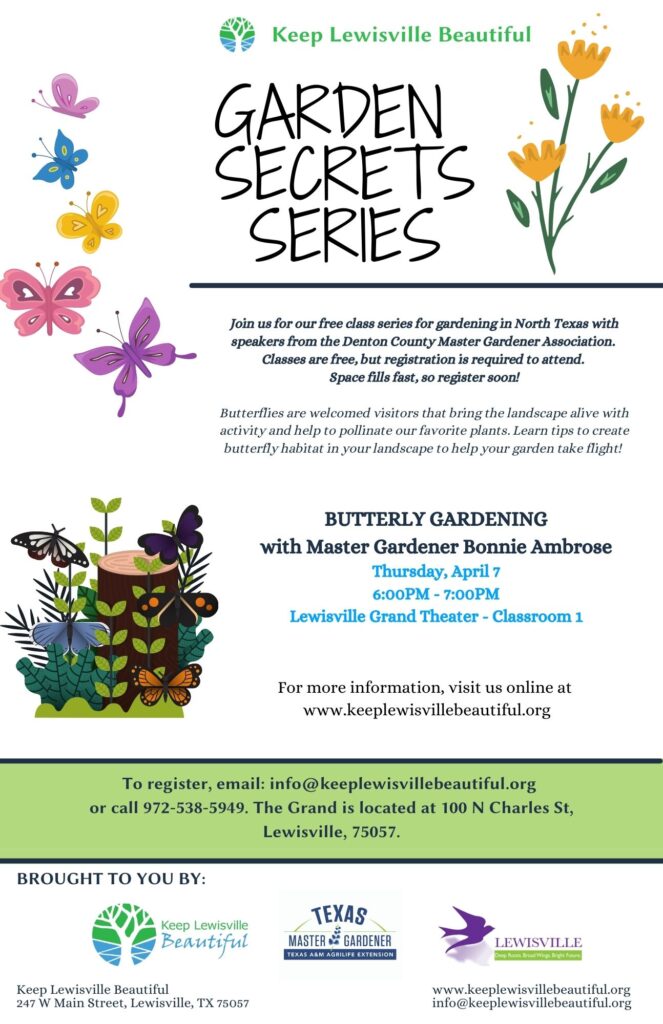 If you have an idea for a class, we would love to hear from you!
Contact us:
Keep Lewisville Beautiful
Call: 972-538-5949
E-mail: info@keeplewisvillebeautiful.org