Learn valuable garden secrets through our educational gardening
class series: Garden Secrets.
NOTICE: ALL in-person classes have been cancelled at this time (6/25). Agrilife Water University, our speaker and co-host, has moved to online virtual classes through the end of the year. KLB is currently working with Agrilife, and other partners, for a new class schedule.
In the meantime, you can check out and register for virtual classes directly with Agrilife at https://wateruniversity.tamu.edu/events/ 
Each month Keep Lewisville Beautiful holds a FREE Gardening class at the MCL Grand (100 N. Charles Street Lewisville, Texas 75057) from 6-8pm. For more information about upcoming classes, to register your seat, or to volunteer as a speaker, please email info@keeplewisvillebeautiful.org or call 972-538-5949. Click on the links below to see upcoming 2020 Garden Secrets classes and flyers.

Upcoming Classes:
Please note that registration is required for each class.
972-538-5949 or email info@keeplewisvillebeautiful.org
Classes are open to all community members (residency not required) and all ages are welcome. All classes are free, but donations help us grow! If you enjoy our programming, please consider donating to help sustain our gardening series.
Master Composter Training Course
Feb 27, 28, and 29th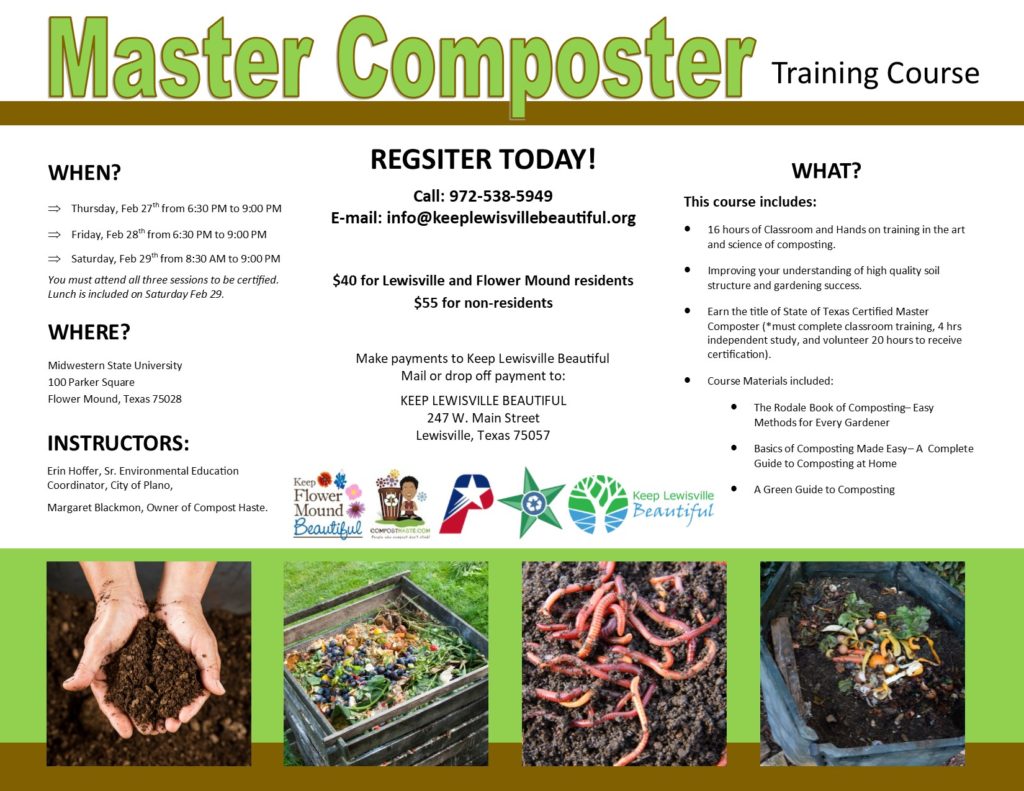 Keep Lewisville Beautiful is teaming up with Keep Flower Mound Beautiful to offer the State of Texas curriculum based Master Composting classes on February 27th, 28th, and 29th. Students receive 16 hours of classroom and hand-on training, complete 4 hours of independent study and then volunteer 20 hours teaching others the principals of backyard composting on their journey to earn the title "State of Texas Master Composter".
Class Benefits include:
Learn composting basics and the science that supports the transformation or landscape trimming and organic waste into humus-rich material.
Use nutrient rich soil to amend your landscape and lawn.
Teach others about composting and diverting waste from our overflowing landfills.
Improve your understanding high quality soil structure and gardening success.
Earn the title of State of Texas certified Master Composter (*must complete State requirements and attend all sessions)
Instructors
Our Instructors are Erin Hoffer, Sr. Environmental Education Coordinator, City of Plano and Margaret Blackmon, Owner, Compost Haste.
Materials
Classroom attendees receive a copy of the following books: The Rodale Book of Composting – Easy Methods for Every Gardener, Basics of Composting Made Easy – A Complete Guide to Composting at Home and A Green Guide to Composting.
Class Location
Master Composting classes will be held at Midwestern State University, Flower Mound campus, located at 100 Parker Square, Flower Mound, TX 75028. Hands-on training will be held at Rich Lubke Community Organic Garden, 900 N Kealy Ave Lewisville, Texas 75057
Cost
$40 for Flower Mound and Lewisville residents
$55 for non-Flower Mound or non-Lewisville residents
Spouses may attend for an additional $20, but the couple must share classroom supplies.
Certification
Texas Master Composter certification requires 16 hours of classroom training, 4 hours of independent study and 20 hours of volunteer time. Upon completion of all four days of the Master Composter Class, attendees receive 16 classroom training hours. 4 hours are completed via independent reading and/or compost related projects. Volunteer hours are completed by executing approved projects and teaching the principals of composting to others within one year after completion of the classroom training.

Classroom Training Hours
"Classroom Training Hours" means you are being receiving education. Classroom Training Hours can be earned through attending compost-related classes, tours, workshops/conferences and reading informational materials.
Volunteer Hours
"Volunteer Hours" means you are educating someone else. Volunteer hours can be earned through staffing an information table at KFMB or KLB public events, teaching others about composting, giving presentations to groups and volunteering at a community garden.
All hours must be documented by the participant and submitted to the local Master Composter volunteer coordinator. Watch the KFMB or KLB calendars on-line for classroom training and volunteer opportunities to fulfill your Master Composter certification requirements.


More information
Email your questions and contact information to info@keeplewisvillebeautiful.org or info@KFMB.org.

Register Today!
Keep Lewisville Beautiful
Call: 972-538-5949
E-mail: info@keeplewisvillebeautiful.org

Payments: Make checks payable to Keep Lewisville Beautiful and mail or drop off your payment to:
Keep Lewisville Beautiful
247 W. Main Street
Lewisville, Texas 75057