SAVE THE DATE!
Saturday, April 20th, 2024
LOCATION: THRIVE
2024 registration is not live yet, but join our mailing list to be notified when it opens! email: info@keeplewisvillebeautiful.org 
Cleanup: 8am-12pm
Mariposas and educational activities: 10am-12pm
Each year, KLB hosts its annual Spring Clean up event in conjunction with Keep Texas Beautiful's Trash Off and Keep America Beautiful's Great America Clean Up activities. With the help of hundreds of volunteers, this event focuses on a city-wide clean up of Lewisville with special attention on areas in need.
This year, we are partnering with the City of Lewisville and LLELA to host Mariposas onsite, from 10am to 1pm.
We need YOU to help keep our community clean, green, and beautiful.
Volunteers are needed for trash pickup. KLB will assign teams to various pre-determined locations, where each team focuses on cleaning their spot and reports back at onsite for trash count, a free educational expo, and free volunteer lunch. There will be a contest for most trash collected for youth and adult groups, an a competition for most unusual item found.
This is a great event for all ages, and is a great way to get your family, business, or organization involved.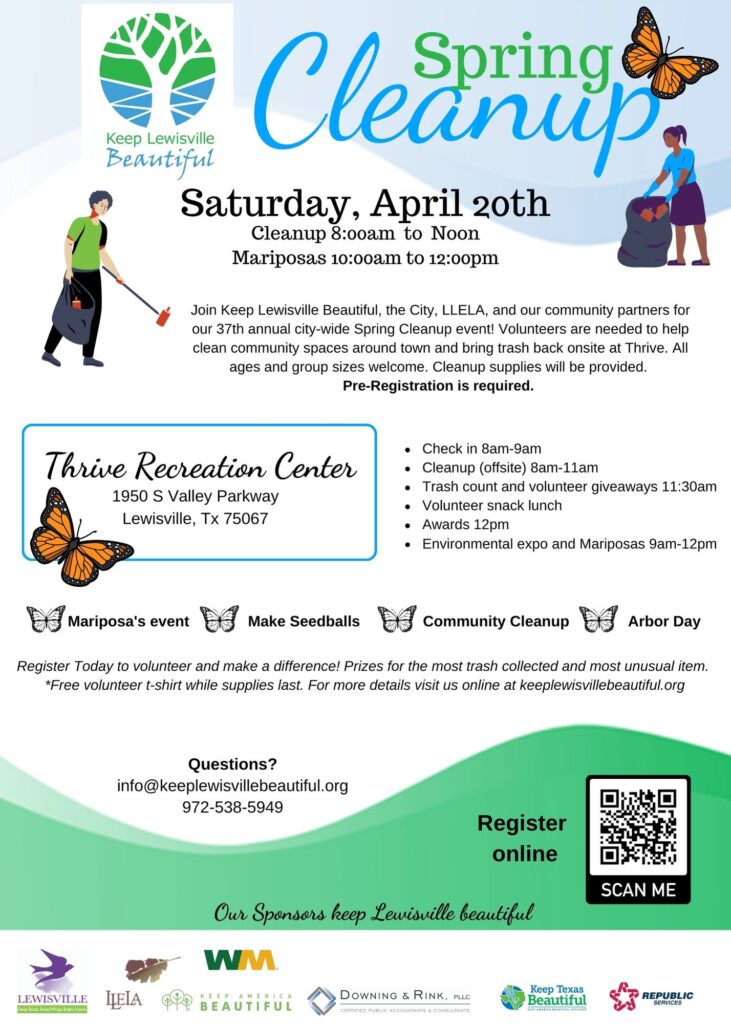 2024 Sponsors:
City of Lewisville
Republic Services, Lewisville Landfill
Waste Management
Downing & Rink PLLC
Lone Star Self Storage
Don't Mess With Texas
TxDot
Keep Texas Beautiful
Keep America Beautiful
2024 Donation Sponsors:
Please come back for updates in 2024!
Contact Amy Wells if you would like to donate
amy@keeplewisvillebeautiful.org
972-538-5949
2023 Donors/ Door Prize sponsor information:
Donate today! Contact the KLB office at 972-538-5949 or email info@keeplewisvillebeautiful.org

We encourage everyone to participate!
You will be proud of the difference it will make. Keep Lewisville Beautiful is a non-profit organization governed by a Board of Directors whose mission is to empower the citizens of Lewisville through education to take a greater responsibility for enhancing their community. Keep Lewisville Beautiful (KLB) celebrates 34 years of organizing community residents and businesses to help clean up the city.
If you cannot make the SCU date, don't feel left out! Organize your own clean up and call KLB with the details and we will try to see that you are recognized for your hard work. You can reach our office at 972-538-5949.
You can also donate to our event! More info on how to donate/support KLB programs HERE.
Litter doesn't just appear; it is the result of careless attitudes and improper waste handling. People litter mainly because they feel no sense of ownership, even though areas such as parks are public properties. They believe someone else, such as a park maintenance or highway worker will pick up after them. The Spring Cleanup is about community pride and making our neighborhoods, streets, parks, and medians cleaner, greener, and more beautiful.