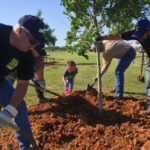 2017 Arbor Day
Texas-New Mexico Power, the City of Lewisville Parks and Leisure Services, and Keep Lewisville Beautiful teamed up to plant trees in honor of Arbor Day 2017.  On Thursday, May 4th, 13 Oak and Bald Cypress trees were donated by Texas New Mexico Power and planted along the shoreline at Lake Park for visitors to enjoy for years to come. Texas-New Mexico Power employees volunteered 37.5 hours planting trees and cleaning up Lewisville Lake shoreline. To date, TNMP has planted a total of 52 trees at Lake Park with KLB since 2010 to celebrate National Arbor Day.
Want to celebrate Arbor Day at home? There are many different ways you can get involved and celebrate year-round. You can celebrate Arbor Day in a personal way by planting a tree yourself, read a book about trees, learn to identify trees in your yard and neighborhood, visit a local park and take a nature hike, attend a class on tree and plant care, or you can volunteer with a local tree-planting organization.
Did you know that National Arbor Day is celebrated the last Friday of April, but Texas celebrates Arbor Day the first Friday in November? Trees provide many benefits to the community, including cleaner air and water, cooler temperatures, and even increased property values and energy bill savings!
Keep Lewisville would like to thank Texas-New Mexico Power for their generous donation of trees for the community to enjoy at Lake Park, and all of the employees who volunteered their time to make Lewisville a greener and more beautiful community.